Courteney Cox Dons Turkey, Recreates Friends Scene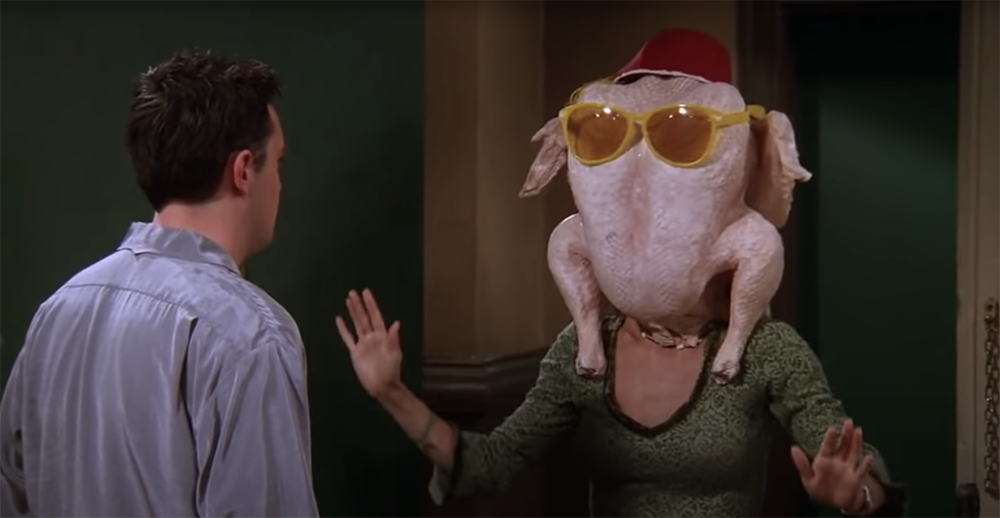 [LANGUAGE WARNING]
Actress Courteney Cox has surprised Friends fans with the recreation of one of the most iconic scenes of the popular sitcom.
Way back in 1998 in a special Thanksgiving episode, Cox's character Monica Gellar infamously danced with a turkey on her head while standing in Chandler's apartment.
In case you need a reminder of that moment check it out below!
Late last month Cox gave her 10.2million Instagram followers a rare treat for Thanksgiving, she once again donned a turkey and had a dance.
In the video, Cox wishes everyone a Happy Thanksgiving before the camera zooms in on her mouth and she loses it.
"If I get one more goddamn GIF of that turkey on my head dancing like a f**king fool - I'm just gonna snap!" Cox says.
That GIF that everyone knows oh so well then plays briefly before Cox continues, "so anyhow, since I'm the symbol of Thanksgiving, here you go, hope it makes you happy."
AND THEN IT HAPPENS!
Just this week Cox again took to the platform this time to share behind the scenes footage of just how the Turkey head look is created.
You can check it out below, fair warning though some viewers might find it distressing.
Image Credit Series Clips YouTube (Screenshot)