Victoria Police Officer's Heartwarming Gesture to Homeless Man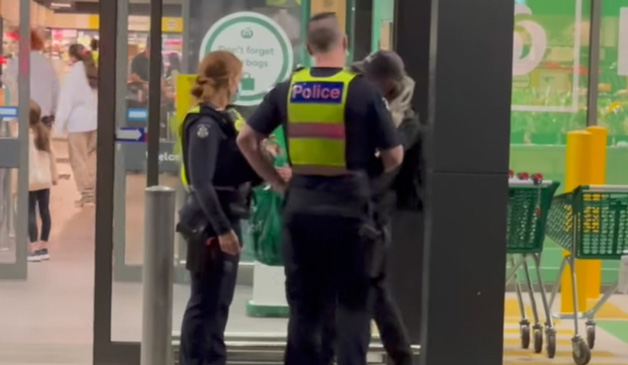 Two Victorian Police officers have been commended for a heartwarming act, buying a homeless man food during a cold night in Melbourne during lockdown.
The touching moment was captured on video by blogger Adele Barbaro, whilst she was on a grocery run. She explains that she saw the two police officers approach the homeless man at the entry of the supermarket. He had a handwritten sign requesting spare change to get some food.
Barbaro continues to explain that instead of telling him to move on, they asked him, "What brings you out in the cold tonight mate?"
As she went on her normal grocery round, she saw the officers inside with a hot roast chook and bread rolls thinking it was for their own dinner. She then noticed them getting staples like rice and cereal and one officer said, "We probably need to get him some milk too."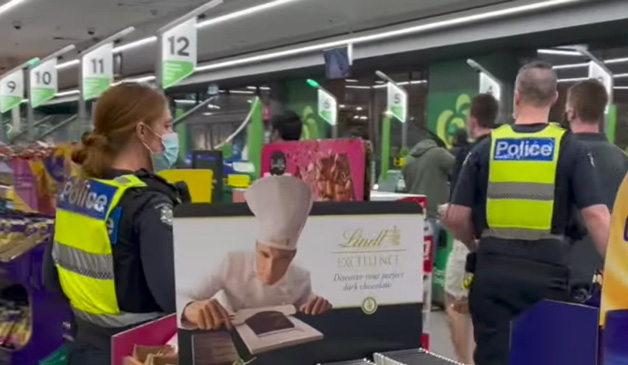 Seeing them at the checkout, she realised the officers were buying the homeless man food.
Her full post reads:
"It is cold tonight, I was rugged up as I walked through the car park of my local Woolies. A few steps ahead of me were 2 police officers heading straight for a homeless man sitting at the entry. He had a handwritten sign requesting spare change so he could get some food. It's not unusual to see someone less fortunate at the entry, it happens all the time, some times I throw in some spare change, but most times I'm guilty of walking past.
As the officers approached him, instead of saying 'time to move on' or 'you know you can't be here', one of them said 'What brings you out in the cold tonight mate?'
I heard him talk about being hungry and the iPads came out as they took details, and as I made my way through the automatic doors I could hear the officers say 'We just wanna make sure your OK mate?'
I went about shopping, grabbing nappies and food without giving it a second thought, I saw the 2 officers inside with a hot roast chook and some bread-rolls and figured they were getting themselves late shift dinner. But then I noticed staples like rice and cereal and one of the said 'we probably need to get him some milk too.'
That is when it hit me. They were not shopping for themselves. We ended up at the checkout at the same time, they had split up and seem to do half the groceries each and both pulling out wallets/purses to pay half each. These 2 weren't rookies, they clearly knew the difference between a scammer and someone who was genuinely hungry. As they went outside I overhead them check again that he had somewhere to stay tonight and then they handed him the bag of food with respect, compassion and kindness."
Victoria Police also reposted the video commending the officers, captioning:
"For Melbournians, this lockdown is not our first rodeo and we know people are doing it tough.

Follow in the footsteps of First Constable Jones and Constable Jacobson. Be Kind."
People have commended the interaction, one person saying on Facebook:
"Thanks for sharing such an awesome story. Kudos to two police officers going above and beyond. Need more stories like this on social media."
 Another person commented that in tough times, that is the kind of stuff we need to see more of:
In tough times like these this is the kind of stuff we need to see more of! Great work to both officers involved, what a way to connect to the public. But also great work to you for broadcasting such a genuine act of kindness! 
The interaction comes after Victoria went into a seven-day circuit breaker lockdown which was extended for another seven days.
The two officers, First Constable Sheridan Jones, and Constable Simon Jacobson revealed they weren't aware the act was caught on camera. They spoke about the act of kindness in another video by The Police Association Victoria. 
First Constable Sheridan Jones explains that she didn't want to move the man on until they had somewhere to send him and asked him when was the last time he had eaten. Jones gave the man two choices: to go inside with them or for them to surprise him. She then revealed what was inside the bag which included, a hot chicken, rolls, bananas, pasta, milk, and snowballs.
Image Credit: (@adele_barbaro / Instagram)