New Rendition of Fruit Salad! The Wiggles Team up With Sesame Street for The Ultimate Collaboration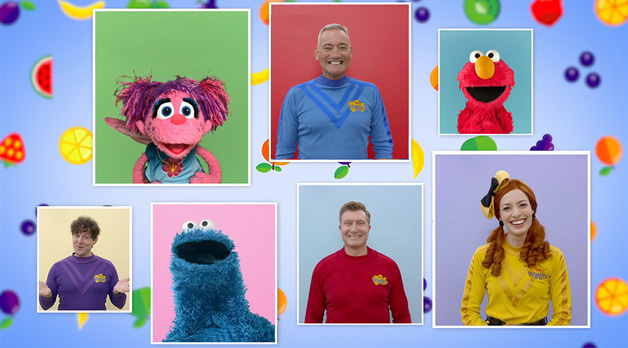 The Wiggles and Sesame Street have teamed up to recreate one of The Wiggle's most iconic songs, "Fruit Salad."
Sesame Street characters Elmo, Abby, and Cookie Monster join Emma, Lachy, Simon, and Anthony for the ultimate kid's collaboration.
"Fruit salad, yummy, yummy!" We all know the song whether young or old, so this new rendition of the song is exciting for us all. The fun, bright video stars The Wiggles, Anthony Field, Lachlan Gillespie, Simon Pryce, and Emma Watkins, and Sesame Street's Cookie Monster, Abby Cadabby, and Elmo.
The release comes from Sesame Street's nonprofit organisation, Sesame Workshop, and is a part of a two-music video collaboration celebrating both shows combined 80 years in children's entertainment.
Our wonderful friends at @sesamestreet are back to sing with us, this time to a very yummy, yummy tune! 🍉🍊🍌 #TheWiggles https://t.co/4VomNXZhzk

— The Wiggles (@TheWiggles) June 9, 2021
Sesame Street celebrated its 50th season last year and The Wiggles celebrated their 30th anniversary this year in 2021.
The Wiggles and Sesame Street also teamed up back in May, with a rendition of Sesame Street's 'The ABCs of Moving You'
We had such a lovely time dancing and singing with @sesamestreet last month! We hope to catch up with them again soon… 👀 #TheWiggles pic.twitter.com/ecekpnS0nZ

— The Wiggles (@TheWiggles) June 9, 2021
Blue Wiggle, Anthony Field said about the collaboration:
"'Fruit Salad' is one of our most popular songs ever. For many, it is the first song that comes to mind when they think of The Wiggles.

"We are so excited to share a new and updated take on this classic that includes the vibe and feel that only 'Sesame Street' can provide."
"Fruit never looked so fun!" said Jenny Gioia, VP of Multimedia Programming, Sesame Workshop.
"We can't wait to share the laughter and learning of this latest music collaboration with The Wiggles with all of our fans, available today on YouTube"
Can't get enough of Sesame Street and The Wiggles? You can enjoy the ultimate Wiggles and Sesame Street playlist
here
:
Image Credits: (Sesame Workshop | The Wiggles / Youtube)