'Eye of Fire' Ocean Blaze Sparks a Wave of Hilarious Memes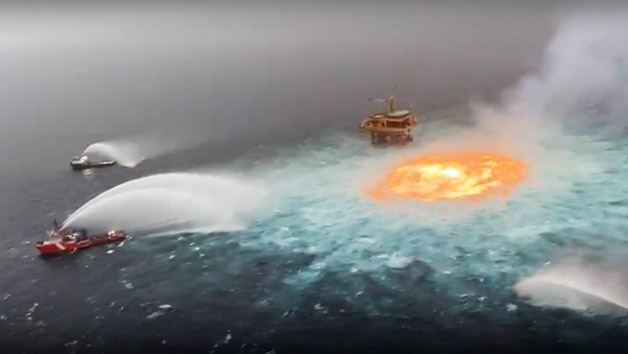 Astonishing footage of an ocean blaze dubbed the 'Eye of Fire' has gone viral after the bizarre scene was shared on social media.
The situation has ignited the internet, producing a wave of hilarious memes and we've found the best ones.
The Gulf of Mexico is literally on fire because a pipeline ruptured pic.twitter.com/J4ur5MNyt1

— Brian Kahn (@blkahn) July 2, 2021
The fire occurred on July 2nd in the Gulf of Mexico and was reportedly caused by a gas pipeline leak and a lightning strike.
In a shocking chain of events, the underwater pipeline caused natural gas to build up and as it reached the surface. It is believed during an intense storm of rain and lightning, the gas was ignited by a lightning bolt. 
The oil firm Pemex reported no one was injured during the five-hour period the fire was alight. They sent fire control boats to pump water to control the blaze and although the incident was an ecological disaster, the internet has found humour in the situation.
Similar to the scenes of the ship blocking the Suez Canal, the incident mirrors the viral event with a small ship trying to fix a massive ordeal. This of course sparked a collection of hilarious memes.
---
Here are the best memes of the 'Eye of Fire.'
---
Here we go again. pic.twitter.com/I6tjZmMqhf

— Fryda 💉J&J April/Pfizer June/Pfizer July (@FWTFsHappening) July 2, 2021
the big fire in the gulf of mexico is now stuck in the suez canal pic.twitter.com/mS4wdhBpKZ

— ben wasserman (@benwassertweet) July 3, 2021
this is what started the fire in the Gulf of Mexico pic.twitter.com/YjVzGmkurC

— anthony✈️ (@happyjetsfan_) July 2, 2021
What's actually going on beneath the waves...#gulfofmexicofire #GulfofMexico #fire #mexico #meme pic.twitter.com/36PslhwDEZ

— Sean Roberts (@Seankichu) July 6, 2021
Watching firefighters spraying water into the fire in the middle of an ocean. Yes you read it right funny neh? Well it happened after an oil pipe ruptured in the Gulf of Mexico. pic.twitter.com/wjfBkGkPqf

— Kgosiemang (@GJKM_9085) July 3, 2021
Literally the first thing I thought when I read about the fire in the Gulf of Mexico. Meme is not mine tho, I'm not that creative. If it's yours, let me know so I can credit or delete! pic.twitter.com/0KQrgYnDHi

— Kathryn Albright (@BiblioKatie) July 5, 2021
Authorities are asking the public to keep an eye out for this individual, wanted for questioning about the gas pipeline fire in the Gulf of Mexico. pic.twitter.com/MYHZEfisJ1

— Thinkwert (@Thinkwert) July 6, 2021
There's only one way to put out that oil fire #GulfofMexico pic.twitter.com/AKF5BEYf0E

— pauly casillas (@PaulyPeligroso) July 3, 2021
July 2, 2021
July 2, 2021
---
Image Credit: (@MLopezSanMartin /Twitter)