This Hawk and Snake Stopped The Rock from Going to the Gym!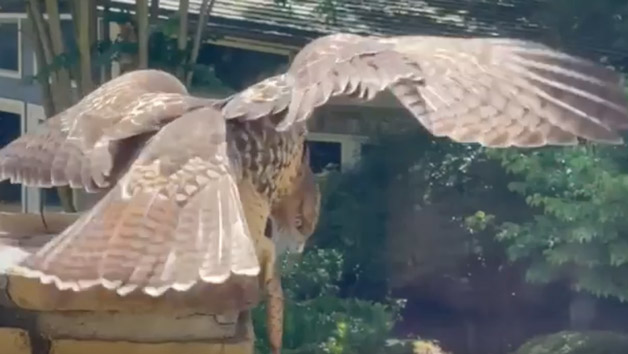 Dwayne 'The Rock' Johnson couldn't work out on the weekend because of an encounter with a hawk and copperhead snake at his door and has shared the video to his 253 million Instagram followers.
"It's either this hawk's Copperhead snake 🐍🦅 or my weekend workout 💪🏾," he wrote.
The one-minute and nine-second video taken by The Rock himself shows the hawk perched on a podium in front of his kitchen door, preying on a copperhead snake.
He explains he tried to scare the hawk away by opening the door but it made the hawk angrier. He said in the post:
"I tried to open the door with some firm DJ energy and instead of flying away, he got p***** and hasn't stopped ka kaw'ng me since 🤣 Clearly, we both have a few things in common 😈💀 but he's gotta eat and I gotta train…."
In the video he says that it's the only way to get to the gym: "The problem is, I gotta go to the gym. I have to walk down the stairs to get to the gym, that's the only way."
He tells his viewers to wish him luck and says, "So it's either my workout or his snake. Wish me luck, if y'all don't hear from me in a few hours you know I got my a** kicked by a hawk."
Amazed by what he's witnessed, he writes, "(for the record, seeing a hawk in their hunting/kill/eat mode up close and personal is amazing. Hawks are deceptively massive, impressive and a very powerful mana 👏🏾👏🏾)"
Image Credit: (@therock / Instagram)