McDonald's Manager Reveals What Grimace Actually Is and We're All a Bit Disturbed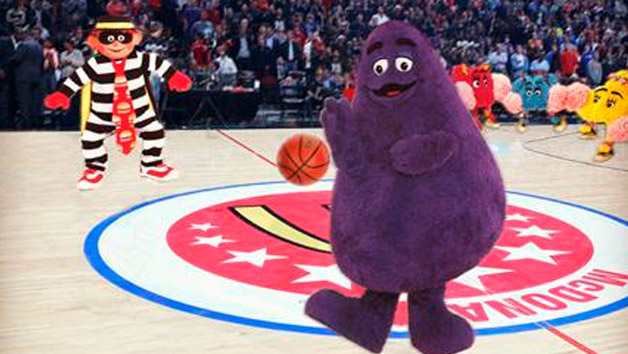 You probably haven't put too much thought into it as it's not as obvious as Ronald McDonald being a clown and Birdie being a bird... but a McDonald's manager has revealed what the purple McDonald's mascot Grimace actually is.
In an interview with CBC News, Award-winning manager Brian Bates has answered the question of what is Grimace, anyway?
College basketball season has begun! Who's your early fave 2 win it all? We're thinking #Hamburger U! Go Grimace! pic.twitter.com/6I5djK3i3s

— McDonald's Corporation (@McDonaldsCorp) November 14, 2014
Bates won the Outstanding Manager of The Year award for his management of a McDonald's franchise in Windsor, Canada, which put in him the top 10% across 1,4000 restaurants in Canada.
It's unofficial, but Bate's revealed that Grimace is in fact, a taste bud. Bates said, "He is an enormous taste bud, but a taste bud nonetheless."
"The purpose of Grimace is to show the food tastes good."
When director Kyle Daly posted this breaking news to Twitter, of course, the internet responded reacting to the news.
Reeling from this pic.twitter.com/HPw3EueHKB

— Kyle Daly (@dalykyle) September 1, 2021
Me literally after reading that... pic.twitter.com/9A11N46boV

— Tynisa the Cynical Gen X Witch Walker (@Kalarigamerchic) September 2, 2021
False, he originally had 4 arms and was a greedy hamburger style character.

It's a cover up! pic.twitter.com/kY8HsSsSDD

— Kieran Yap (@KaptinYap) September 2, 2021
He's the taste bud that tastes you right back. pic.twitter.com/EpppAVpTYr

— The Friendly Extra Atheistic Professor (@ProfJRadisson) September 1, 2021
September 1, 2021
To back up his revelation, several tweets from McDonald's Corporation also revealed Grimace was indeed a taste bud… or an embodiment of a milkshake! Although they even say themselves, the origins of Grimace have not been confirmed. The only thing we know for sure is that Grimace is 'purple and awesome.'
@realofficernarc The origins of Grimace have not been confirmed. Some say a taste bud, while others say a milkshake. And very purple.

— McDonald's Corporation (@McDonaldsCorp) August 24, 2011
@rrldmc that would be Grimace. Some say he's a taste bud; other insist he's the embodiment of a milkshake. He's purple and awesome.

— McDonald's Corporation (@McDonaldsCorp) April 15, 2013
Apparently, the original Grimace scared kids with his scaly, mean look and four arms and was then turned into the clumsy, dopey, and loveable character we know today.
Delving deeper into the history of Grimace, the purple character was first introduced as "Evil Grimace" in 1971 in which he was an antagonist that stole beverages like soft drinks and shakes. He also had two sets of arms. He was then reintroduced in 1972 as a protagonist, dropping the "Evil" title and also had just one set of arms.
Image Credit: (@McDonaldsCorp/ Twitter)