Woolworths removes 'too scary' Halloween display
Halloween is all about celebrating the spooky, scary spirit of childhood imagination and creativity. However a Woolworths store in Western Australia has been forced to remove their Halloween decorations after a mum said they were not appropriate for children.
Staff are able to create individual displays based on different occasions, like easter or Christmas; however this time of year isn't one in which people typically think about fun things like that because it's the spooky season!
The showpiece in question, included large ghoulish figures hanging from the ceiling in front of the meat and bread section.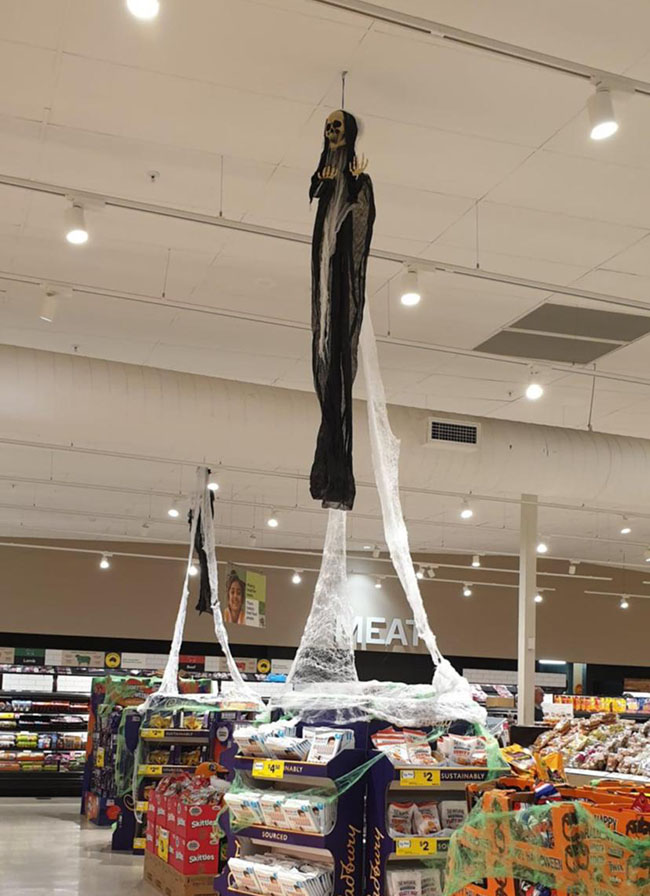 Image: Facebook/Woolworths
Sharing a photo on Facebook (in a post since taken down), the mum said her children had been frightened by the Halloween display so much so that they wanted to leave the store immediately.
"Anyone else struggle with their kids when the decorations come out? Mine said 'Let's leave and go to IGA instead, they don't have scary decorations.'"
The mother's Facebook post sparked an intense debate with many agreeing that the display was "creepy".
"Yeah it's not good having scary decorations gives my kids the nightmares," said one.
Added another: "I think a dedicated section would be better (isn't that what they've done in the past?) I also think it's a bit tasteless and inappropriate at the moment."
But not everyone thought the display was inappropriate.
"It's Halloween season?!? Your kids need to get a grip if they're scared by Halloween paraphernalia!
There are Halloween decorations everywhere in October, might want to keep the child at home if they can't handle those!" said one.
Added another: "Come on people it's only a bit of fun, for goodness sake."
"Should have been a kid in the '80s. I remember seeing the ads for Nightmare On Elm Street in the local video shop. Didn't give me nightmares," wrote another.
"Is it really scary?" one person asked.
"That's not even scary … my eight-year-old would laugh," another commented.
"I'm sorry but this is a joke," another said.
"My daughter was always terrified of Father Christmas, maybe Christmas should have been cancelled for the last 11 years just to suit her," one shopper argued.
"Please leave the decorations up Woolworths, we have had such a crap few years and seeing the decorations out is a nice distraction."
Woolworths apologised for any offence caused by the display and confirmed it had amended the display after feedback from customers.
"Our store teams enjoy helping customers celebrate a range of events throughout the year and we encourage them to get in the festive spirit by decorating their store in the lead up to celebrations like Halloween," the spokesperson said. "We want all customers to feel comfortable and welcome in our stores, and appreciate this customer's feedback on the decorations at her local store."We have passed this feedback on to the store team, who have since amended the display."
Looks like the Karens have won this one...💀  What do you think?