Fun ideas to celebrate Halloween at home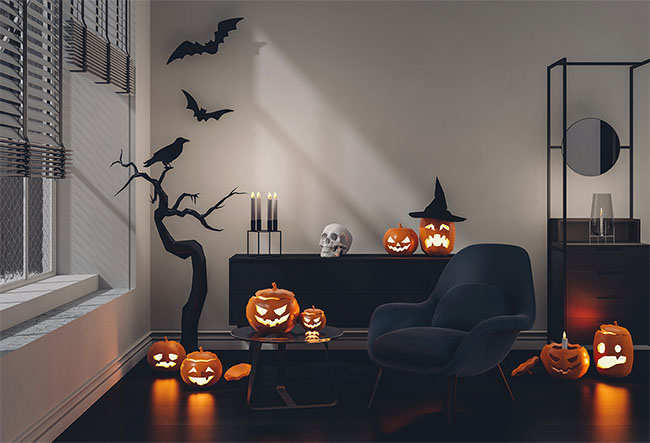 Coronavirus has made Halloween different this year, but even with no lockdowns, some of us are just wanting to stay at home.
We can still get dressed up and have some fun though - here are some ideas!
1. Put up a poster to welcome or keep away trick or treaters
Since you'll be at home, you might get some cute little ghouls and ghosts looking for sweet treats. So we've made some fun posters you can print out to tell people if they should knock on your door or stay away. Simply click the buttons beneath the posters to download a pdf version you can print and stick on your door or mailbox.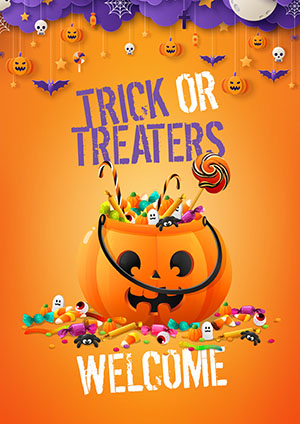 .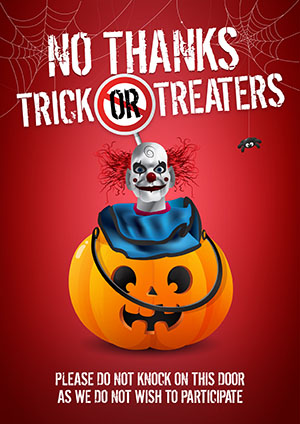 .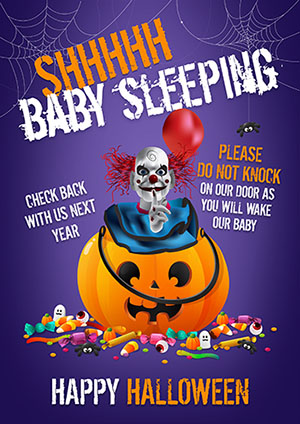 Download the BABY SLEEPING poster

2. Take a scary virtual tour
Let's start off by doing what we've all been doing for most of this year and take Halloween online. Check out these virtual tours for Chernobyl, the catacombs of Paris (so many skulls!) or the Isle of Dead Dolls and give yourself chills.

3. Watch some scary movies
This collection is for the adults only and if you have kids, make sure you don't wake them up with your shouts and screams! We think they're too scary to include the trailers...you're welcome!
Also, you can use Netflix Party to watch Netflix movies with friends who aren't with you - the only downside is you won't have anyone to grab during the scary bits!
Halloween
This had to be first on the list. The slasher franchise that started in 1978 now has 11 films to choose from, but it's probably best to go with the 2018 version.
Evil Dead
The greatest horror comedy ever made, it scares the pants off you and makes you laugh all at once.
Paranormal Activity
Although similar in concept to the Blair Witch Project with its found footage and purposeful mystery around whether it was actually true, Paranormal Activity amped up the scares to the next terrifying level.
The Shining
No Halloween connection here, but it's an absolute classic that shows that sometimes the scariest things aren't ghosts and ghouls but the demons inside your own head.
The Ring
Given how we're all glued to our TV screens these days, a movie involving a curse and a woman crawling out of your screen is a truly terrifying concept. For one even scarier watch, find the original 1998 Japanese version, called Ringu.
The Babadook
A single mother and her child fall into a deep well of paranoia when an eerie children's book titled "Mister Babadook" manifests in their home.

4. Watch some not-too-scary movies with the kids
Settle in with these spooky but kid-friendly movies that are actually quite sweet too. A perfect way to hide the fact that you are terrified of anything remotely scary or just for a change of pace after watching the real scary ones above! We'll show you the trailers so you can make sure they're definitely age-appropriate.
The Nightmare Before Christmas
Tim Burton's groundbreaking stop-motion animated movie is a wickedly fun combination of all things spooky and Christmassy. Worth a rewatch at Christmas too!
Hotel Transylvania
Every monster you can think of seems to make an appearance in this sweet movie about Dracula trying to protect his daughter from the scary world of humans.
ParaNorman
This animation follows a misunderstood boy as he takes on ghosts, zombies and grown-ups to save his town from a centuries-old curse.
Coco
This playful movie showcases Mexican culture and their Day of the Dead (Día de Muertos) tradition where they celebrate friends and family who have passed. Yes, it about mortality but it's done so beautifully you might even want to start the tradition yourself each year.

5. Make some Halloween treats
An easy way to bring some Halloween flavour (haha) to whatever you've got planned.
Creep it real with Halloween Cheese & Charcuterie #Halloween #cheese #charcuterie #cheeseboard #halloweenfood #foodie #Spooktober #October #HALLOWEENPARTY pic.twitter.com/sB1sQOCkGY

— Meggie Sullivan (@queenbrieclt) October 19, 2020
Anyone for shrunken potato heads? Crispy, ghastly and just right for dunking in ketchup.🎃
There's more on potato carving, monster mash and cooking these spooky snacks here: https://t.co/5W9UcB3qPn #halloween2020 #halloweenfood pic.twitter.com/dUbGnBWFHx

— Tasty Potatoes 🥔 (@TastyPotatoes) October 28, 2020

6. Play some spooky games
If you need to keep the kids occupied when all that sugar hits, we've got some fun games that are easy to set up. And if you panicked during the early days of coronavirus and stockpiled toilet paper, we'd recommend the mummy wrapping game where you compete to be the fastest to wrap your partner in toilet paper!
Image: Srijaroen/Shutterstock.com