Tiger King 2 Official Trailer Is Here: Joe Exotic and Carole Baskin Are Back!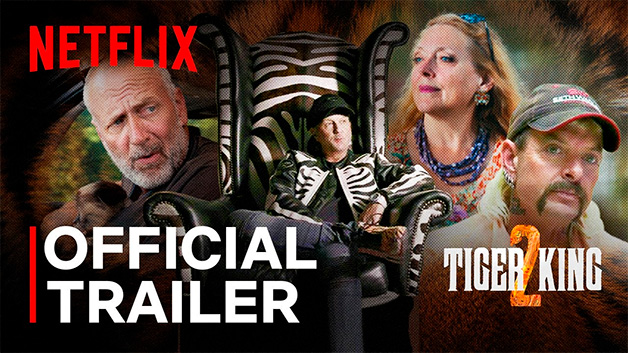 You thought you'd seen it all, but they've only scratched the surface! The Tiger King saga continues with Netflix releasing the official trailer for the second instalment of their original hit documentary miniseries, Tiger King: Murder, Mayhem, and Madness.
The second series was announced in September and now Netflix has given fans a first look at what Tiger King 2 will entail.
The original series released in 2020, became a global sensation and focussed on the Tiger King, Joe Exotic, an eccentric zoo owner who was caught up in a murder-for-hire story revolved around big cat rescuer Carole Baskin. The series received six Emmy nominations including Outstanding Documentary Series.
Tiger King 2 is a continuation of the original series, where Joe Exotic is currently in prison for the attempted murder of Big Cat Rescue founder Carole Baskin along with 17 convictions for animal abuse.
The trailer for Tiger King 2 starts of with a phone call from Joe Exotic himself from prison. The automated voice begins, "You have a prepaid call from…" "Joe Exotic", he adds.
Tiger King is coming back this year — and Season 2 promises just as much mayhem and madness as Season 1! pic.twitter.com/mFBUxtAl6i

— Netflix (@netflix) September 23, 2021
The voice of Exotic continues:
"There's an innocent man in prison. Everybody from the zoo is out there making money and I'm paying the price for every one of them people. If you give a damn, it's time to speak up."
The trailer continues with Jeff Lowe, who took over the park explaining how the series changed their lives with sudden fame. He says, "Tiger King changed our lives overnight. We have more money than God right now."
We are then re-introduced to Carole Baskin again in the montage of clips with a voice-over bringing back the story of the death of her husband Don Lewis saying, "What happened to Don Lewis? Carole knows something. He was dealing with some shady characters down in Costa Rica."
We thought we'd seen it all — but we'd only scratched the surface

Tiger King 2 premieres November 17. pic.twitter.com/TuOy3BVJqP

— Netflix (@netflix) October 27, 2021
The new series will appear to delve deeper into the plot to kill Carole Baskin, as well as the mystery of what happened to her husband Don Lewis. It also appears to show Joe's campaign for freedom as well as reintroducing old characters such as Jeff Lowe and Tim Stark. "The further you go. The wilder. The deeper. The deadlier it gets," the captions say.
It then ends on Exotic's voice saying:
"If I have to make a deal with the devil, I will make a deal with the devil."
Tiger King 2 premieres on November 17, only on Netflix.
Joe Exotic as the whole world watches Tiger King 2 pic.twitter.com/Xoyr7ErLXp

— Blake Garman (@FrostedBlakes34) October 27, 2021
me: "im not watching tiger king 2"

also me on nov 17: pic.twitter.com/ssPgf0B0Fk

— You (@98sarahm) October 27, 2021
Image Credit: (Netflix / Youtube)