The internet responds to Facebook's name change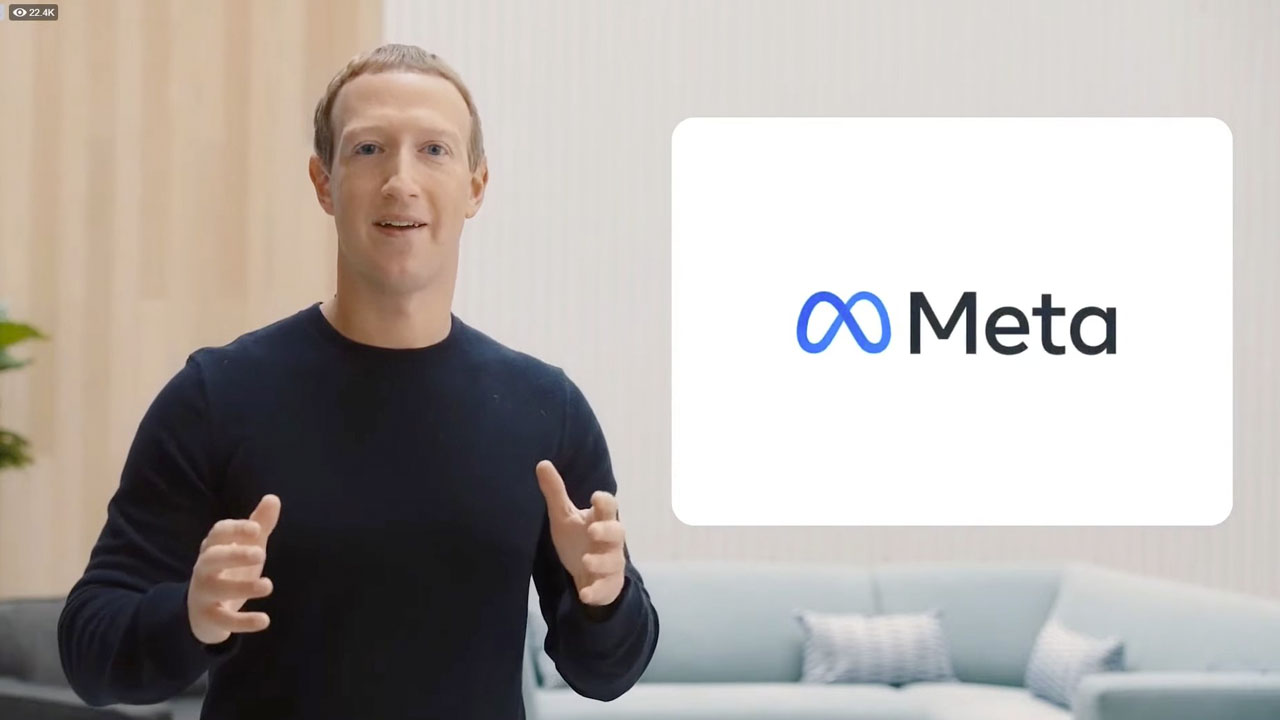 The big news this morning is that Facebook the company has changed its name to Meta as part of a move to bring all its products together in one place.
Facebook the social platform will remain the same as will its apps Instagram, Messenger, What's App and Oculus. 
The rebrand to Meta reflects their new focus on creating a "metaverse" where people will connect in 3D virtual reality, which they see as "the next chapter of social connection".
I'm not sure about you, but we're getting serious Ready Player One vibes, the movie based on the book by Ernest Cline where people live in a world connected to virtual reality headsets 24/7.
#MarkZuckerberg #Meta #Metaverse
Yall can't convince me that this mf didn't watch ready player one and decided "yep. I'm gonna be that guy" pic.twitter.com/TY1KLnSA39

— Elías (@EliasNskys) October 28, 2021
Of course, the internet has had plenty to say about the change, especially given Facebook is facing increasing criticism over privacy and ethical issues and doesn't seem to be addressing them so this rebrand feels like a meangingless name change - and a sad infinity logo to boot.
We've collected the best so far - enjoy!
Who's the mysterious new CEO of #Meta?!? #Metaverse pic.twitter.com/sHRifs3KlB

— Basic Apple Guy (@BasicAppleGuy) October 28, 2021

Everyone's asking about #Meta
Let's reveal this secret.#Facebook pic.twitter.com/tKQX90NFIw

— 𝓐𝓱𝓶𝓪𝓭 (@haider2407) October 28, 2021

Mark Zuckerberg trying fixing Facebook:#Meta pic.twitter.com/Rhzn4uIc4c

— A Pakistani (@ResponsibleMan5) October 28, 2021

How to fix a company: simply change your name#Facebook #Meta pic.twitter.com/3fVL1vHeUR

— Jack O'Connor (@itsjackoconnor) October 28, 2021

Can't have problems with Facebook if the company isn't called Facebook #Meta pic.twitter.com/AdZvrD1bWi

— Luke Smith (@LukeSmithF1) October 28, 2021

They say Meta's not a company. Just a bunch of shit products that steal your personal information. They said that to me at a dinner.#META #CorncobTV pic.twitter.com/0f7PlgyJdy

— Swayzine ITYSL Fan Art (@GarvestonReggie) October 28, 2021

Facebook: We're now called #META!

Literally no one: pic.twitter.com/rqtC1pa57t

— Kar Brulhart (@karbrulhart) October 28, 2021

Guess how perfect time #MarkZuckerberg has choosed to change #Facebook name to #Meta.

.............. pic.twitter.com/6lEHEZa5PQ

— Grahil Khandelwal (@grahilk) October 28, 2021

😂😂😂
Meta memes are here #Metaverse #Meta#Facebook pic.twitter.com/5dMOeIMCKD

— Talha (@talha_umair_) October 28, 2021

Facebook announced its new name #Meta .

I think they missed the mark. I would have named it #SkyNet … pic.twitter.com/3VrifabiFq

— KEEM 🍿 (@KEEMSTAR) October 28, 2021

Why the new Facebook logo look like a sad infinity tattoo? #META pic.twitter.com/LEOStL7msM

— Nicole Arbour (@NicoleArbour) October 28, 2021

if addicted #Facebook #meta pic.twitter.com/QJ3sHFlzeA

— Nani (@follownaamu) October 28, 2021
Matt Groening did it again!!#META @meta pic.twitter.com/y6TeLCGWtD

— Lady Vaga (@Floriwanna) October 28, 2021

Do you know what #Meta translates to in Spanish?

"Put in"

Coincidence? pic.twitter.com/aIq4GEkL3t

— usopp🇲🇦 (@usopp007) October 28, 2021

'Mark holding things' is going to happen, isn't it.#Meta pic.twitter.com/P9t5AqRgdb

— Nick Squillari (@N_Squillari) October 28, 2021

man. one day i'll be telling my kids about how Facebook was back in the early 2000s#Meta pic.twitter.com/FgoWrhq2De

— kimberly (@daymitskimberly) October 28, 2021
#meta #facebook #metafacebook whhhhyyyyyyy pic.twitter.com/aAepEpATeI

— Alex Ahrens Marshall (@alexeome) October 28, 2021
thank you Mark#meta #facebook pic.twitter.com/a1O7sgXsmd

— Javiko ● (@javikolog) October 28, 2021

#AllYourBase #Zuck #Meta pic.twitter.com/Q06l1497Vb

— Carl Knecht (@rialtus) October 28, 2021
 Image: Facebook/Meta