How to order from KFC's secret menu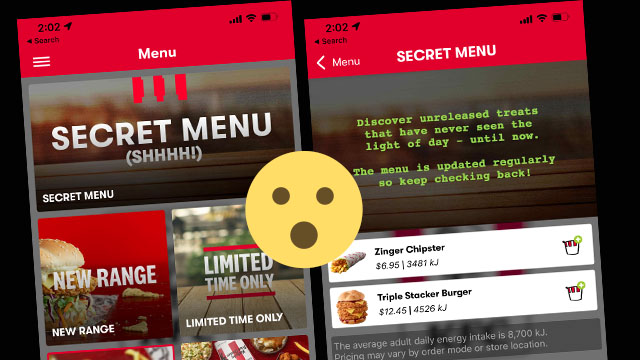 Did you know that KFC has a secret menu with unreleased food items that have never been on the regular menu?
It's been an open secret for awhile, but it's still a thrill to discover it. Plus for the adults out there, you can tell your kids you have important VIP access to order special items for them but only if they behave. (Worth a try right?!)
You can only find the menu in the KFC app - but you still need to know how to find the menu itself since it's not linked in an obvious way. It's secret, afterall.
Right now the secret menu has two offers: a Zinger Chipster and a Triple Stacker Burger. Offers change regularly.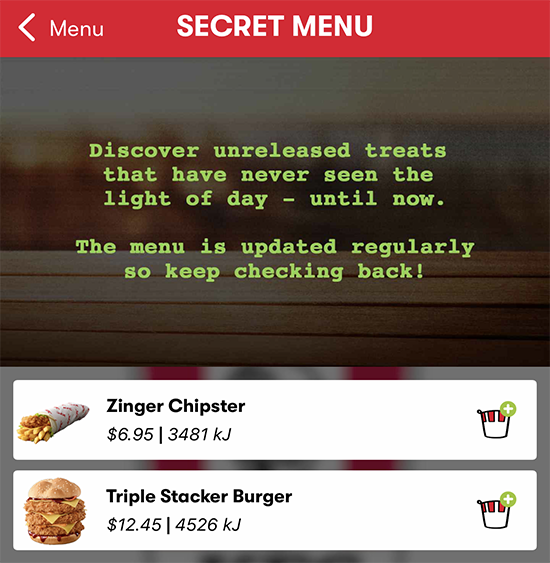 To get to it, download the KFC app and start your order, choosing a location for pickup or delivery. Once the regular menu comes up, swipe down and hold for about 3 seconds and the secret menu will appear!
Check out this TikTok user's instructions - he's doing lots of swiping to be dramatic, but rest assured you can just swipe down and hold and the secret menu will pop up within seconds.
This is clearly not the world's best kept secret and KFC obviously wants us to find it and keep coming back to see what new menu items appear. But if you didn't know it existed, it's kind of a cool discovery.
We only wish other fast food places had secret menus too!
In the meantime, you can hack your meals to make them better, such as this chef who turned KFC tenders Into gourmet pasta!
Part 1
Part 2