Paul Rudd and Fellow Celebrities Hilariously Respond to Him Being 2021's Sexiest Man Alive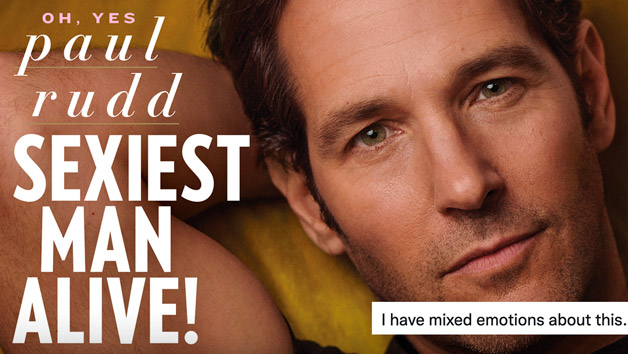 People Magazine has named Paul Rudd '2021's Sexiest Man Alive' and the 52-year-old actor himself and some fellow celebrity friends have hilariously addressed his new title.
According to People Magazine, Rudd had a hard time accepting his new title but spoke to the publication and flaunted his sexy self in a photoshoot which will appear on the cover of the latest issue.
People announced the news on their social media accounts with the caption,
"Introducing 2021's #SexiestManAlive, Paul Rudd! 😍 In this week's cover story, the actor reflects on his new crown, what it was like telling his wife about the title and how he's going to own being this year's Sexiest Man Alive. ❤️ Pick up the issue on stands this week, and tap the link in our bio for more. | 📷: @alexeihay"
Speaking to the magazine he mentions that there are other people who should've got the title before him. He said, "I do have an awareness, enough to know that when people hear that I'd be picked for this, they would say, 'What?' This is not false humility. There are so many people that should get this before me."
Knowing about his new title before it was publicly announced, he said his wife was the only person he told and said she was stupefied. He said, "She was stupefied. But you know she was very sweet about it. After some giggling and shock, she said 'Oh, they got it right.' And that was very sweet. She was probably not telling the truth, but what's she going to say?"
The Marvel superhero said he was expecting his friends to give him grief after the announcement saying, "As they should. I would. I mean I'm going to lean into it hard. I'm going to own this. I'm not going to try to be like 'Oh, I'm so modest.' I'm getting business cards made. But all of my friends will destroy me and I expect them to. And that's why they're my friends."
Rudd hilariously jokes he hopes to finally be invited to sexy dinners with fellow 'sexy' celebrities like George Clooney, Brad Putt and Michael B Jordan, joking, "I'm hoping now that I'll finally be invited to some of those sexy dinners with Clooney and Pitt and B Jordan,"
"And I figure I'll be on a lot more yachts. I'm excited to expand my yachting life. And I'll probably try to get better at brooding in really soft light. I like to ponder. I think this is going to help me become more inward and mysterious. And I'm looking forward to that."
Fellow Marvel actor Mark Ruffalo who plays Bruce Banner/Hulk took to Instagram to hilariously say he's always been a fan, sharing an old video of the two at Comic Con and writing, "Is that Paul Rudd…#sexiestmanalive?! I knew this day would come. Congrats, man 🥳 I hope you continue to never age so you can continue to hold this title."
Judd Apatow, director of 'This Is 40' in which Rudd starred in, said he had mixed emotions about the news. He wrote on Twitter:
I have mixed emotions about this. https://t.co/1RQ7VXzMpp

— Judd Apatow (@JuddApatow) November 10, 2021
Even Ryan Reynolds who held the Sexiest Man Alive title in 2010, responded to the news in an interview on the Today Show, saying, "I think that this opportunity will be wasted on him... He's going to play it shy, he's going to play bashful, humble. If I know what I knew now, I wouldn't do that. You got to seize the moment."
If I had to lose out to someone, I'm happy it's Paul. https://t.co/10J90Ru8ql

— Josh Gad (@joshgad) November 10, 2021
Hilariously, Al Yankovic who Rudd previously dressed up as for Halloween posted to Twitter congratulating him posting the photo of Rudd dressed as him:
Congratulations to Paul Rudd on being named People Magazine's Sexiest Man Alive of 2021. pic.twitter.com/DjgqwAPHjc

— Al Yankovic (@alyankovic) November 10, 2021

Image Credit: (@people / Twitter)