Best new Christmas movies of 2021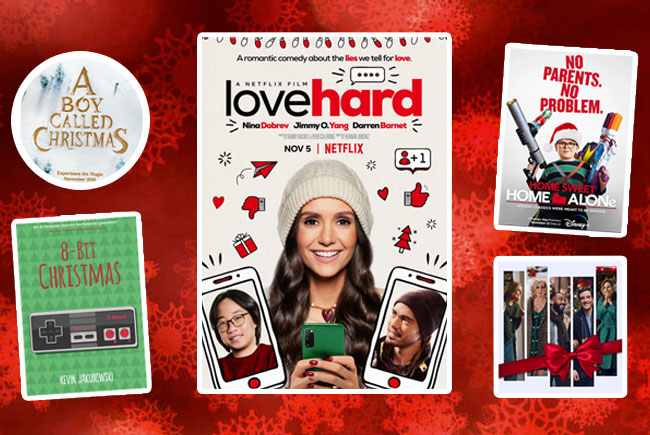 When it comes to Christmas movies, you probably have a playlist of favourites that you faithfully rewatch each year.
Much-loved classics like Elf, The Santa Clause, Love Actually, Home Alone, How the Grinch Stole Christmas and It's a Wonderful Life are on repeat for a reason.
But it's good to keep an eye on the new Christmas releases to see if they can earn a place on next year's watch list.
So we've rounded up the best of the new Christmas movies that have been released in 2021 for you to check out.
Plus we've included three surprise bonuses at the end that also bring the Christmas cheer even though they're not movies: an insane documentary about taking Christmas celebrations too far, a Christmas take on a popular series, and a Christmas special from one of our biggest pop stars.
Happy watching!
Home Sweet Home Alone
A reimagining of the classic Home Alone, Max Mercer is a mischievous and resourceful young boy who has been left behind while his family is in Japan for the holidays. So when a married couple attempting to retrieve a priceless heirloom set their sights on the Mercer family's home, it is up to Max to protect it from the trespassers ... and he will do whatever it takes to keep them out. Hilarious hijinks of epic proportions ensue, but despite the absolute chaos, Max comes to realise that there really is no place like home sweet home.
How to watch: Disney Plus

A Boy Called Christmas
Based on the international best-seller by Matt Haig, A Boy Called Christmas is about an ordinary young boy called Nikolas who sets out on an extraordinary adventure into the snowy north in search of his father who is on a quest to discover the fabled village of the elves, Elfhelm. Taking with him a headstrong reindeer called Blitzen and a loyal pet mouse, Nikolas soon meets his destiny in this magical, comic and endearing story that proves nothing is impossible.
How to watch: In select cinemas

Love Hard
A romantic comedy about the lies we tell for love. An unlucky-in-love LA girl (Nina Dobrev) falls for a rugged East Coast guy (Darren Barnet) on a dating app and decides to surprise him for the holidays—only to discover that she's been catfished by his childhood friend (Jimmy O. Yang).
How to watch: Netflix

Single All the Way
Desperate to avoid his family's judgment about his perpetual single status, Peter (Michael Urie) convinces his best friend Nick (Philemon Chambers) to join him for the holidays and pretend that they're now in a relationship. But when Peter's mother (Kathy Najimy) sets him up on a blind date with her handsome trainer James (Luke Macfarlane)— the plan goes awry.
How to watch: Netflix

8 Bit Christmas
This movie starring Neil Patrick Harris in set in 1980s Chicago and features a 10-year-old boy who sets out on a quest to get the Christmas gift of his generation: the latest and greatest video-game system. No it's not a PS5, we're going old school here!
How to watch: Netflix, AppleTV, Binge, Foxtel, Amazon, Fetch, Google Play, YouTube

Silent Night
This black comedy starring Keira Knightley is a nice change of pace from all the other Christmas fare. Nell, Simon, and their boy Art are ready to welcome friends and family for what promises to be a perfect Christmas gathering. Perfect except for one thing: everyone is going to die. 
How to watch: AppleTV

A Castle for Christmas
To escape a scandal, a bestselling author (Brooke Shields) journeys to Scotland, where she falls in love with a castle - and faces off with the grumpy duke (Cary Elwes) who owns it.
How to watch: Netflix

BONSUS! 3 more must-watches....
Okay, so these aren't movies, but we had to include them as they look so good.

Blown Away: Christmas
Blown Away is cranking up the heat for a spectacular holiday showdown! 'Tis the season for redemption as five fan favorites return to the hot shop to compete in a series of Christmas-themed challenges in the quest to become The Best in Holiday Blow. In the spirit of giving, the winner will not only receive a $10,000 cash prize, but an additional $10,000 will also be donated to their charity of choice.
How to watch: Netflix

'Twas the Fight Before Christmas
For documentary lovers, watch the twisted but true story of a neighborhood's war against "Mr. Christmas." This true-life twist on a holiday fable sees Jeremy Morris bringing a whole new meaning to Christmas spirit when his extravagant seasonal display sparks a dispute with his neighbours that lands them all in court.
How to watch: AppleTV

Mariah's Christmas: The Magic Continues
The Queen of Christmas returns with a blast of holiday cheer in this special. Mariah performs her enchanting original song "Fall in Love at Christmas" with Khalid and Kirk Franklin, chats with Apple Music's Zane Lowe, and signs off with a festive classic.
How to watch: AppleTV
Main image: IMDB