This brilliant 'Find a RAT' site helps find rapid COVID tests near you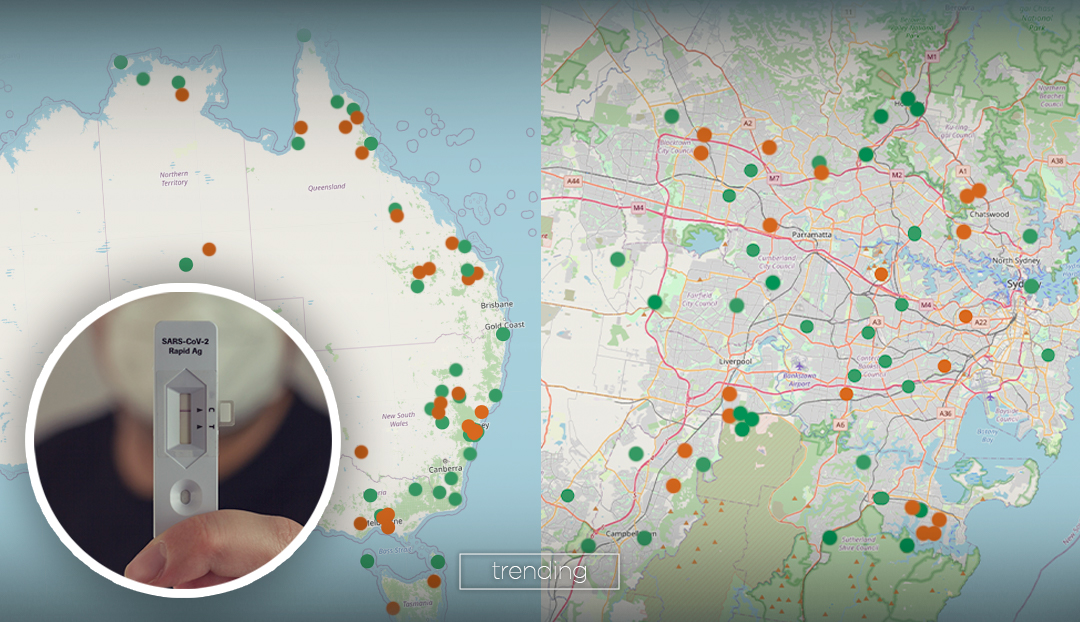 With PCR testing results delayed and the Omicron variant spreading quicker than we'd like, Aussies are on the hunt for Rapid Antigen Tests. Thankfully, this tool does all the heavy lifting for you.
It's no secret that lines are exceptionally long for PCR testing nowadays, and results are taking as long as one week to come back.
By the time you get that all-revealing SMS, the tickle in your throat is subsided and you've moved on with your life.
Obviously, the instant-gratification method is by using a Rapid Antigen Test, however the demand is quickly overpassing supply.
We still need to keep getting tested though, and minimise the spread of this evolved spicy cough variant, so how do we find RATs if everyone keeps snatching them up?
Enter FindARat.com.au. 
Designed to help "you find those sneaky RATs", Find a Rat is an online portal in which you can locate your closest stockist of Rapid Antigen Tests simply by popping in your postcode.
Each location is marked with a tag of 'In Stock', 'Low Stock' or 'No Stock', and users can then report if the suggested locations are wrong or fake - or add their own discovered locations - helping the site remain as accurate as possible.
The time-saving and frustration-reducing website was pioneered by Matt Hayward, a software developer in Melbourne who also recently launched a Victoria Exposure Site Bot on Twitter. 
Introducing Find a RAT - Easily find and report on Rapid Antigen Test availability across Australia.
Built by yours truely! Jump on and report those RAT stock levels! https://t.co/f2ZiErkCN4 😷🐀 #COVID19VIC

— VicExposureSiteBot (@ExposureSiteBot) January 3, 2022
The site sometimes even lists the price of the test at specific locations #winnerwinnerchickendinner.
We now have the ability to add pricing when submitting a report thanks to my amazing colleagues @ Pipelabs! pic.twitter.com/oiOUUT8Kih

— VicExposureSiteBot (@ExposureSiteBot) January 4, 2022

Happy hunting, may the odds be ever in your favour for the RAT race!
Images: findarat.com.au & shutter_speed / Pexels