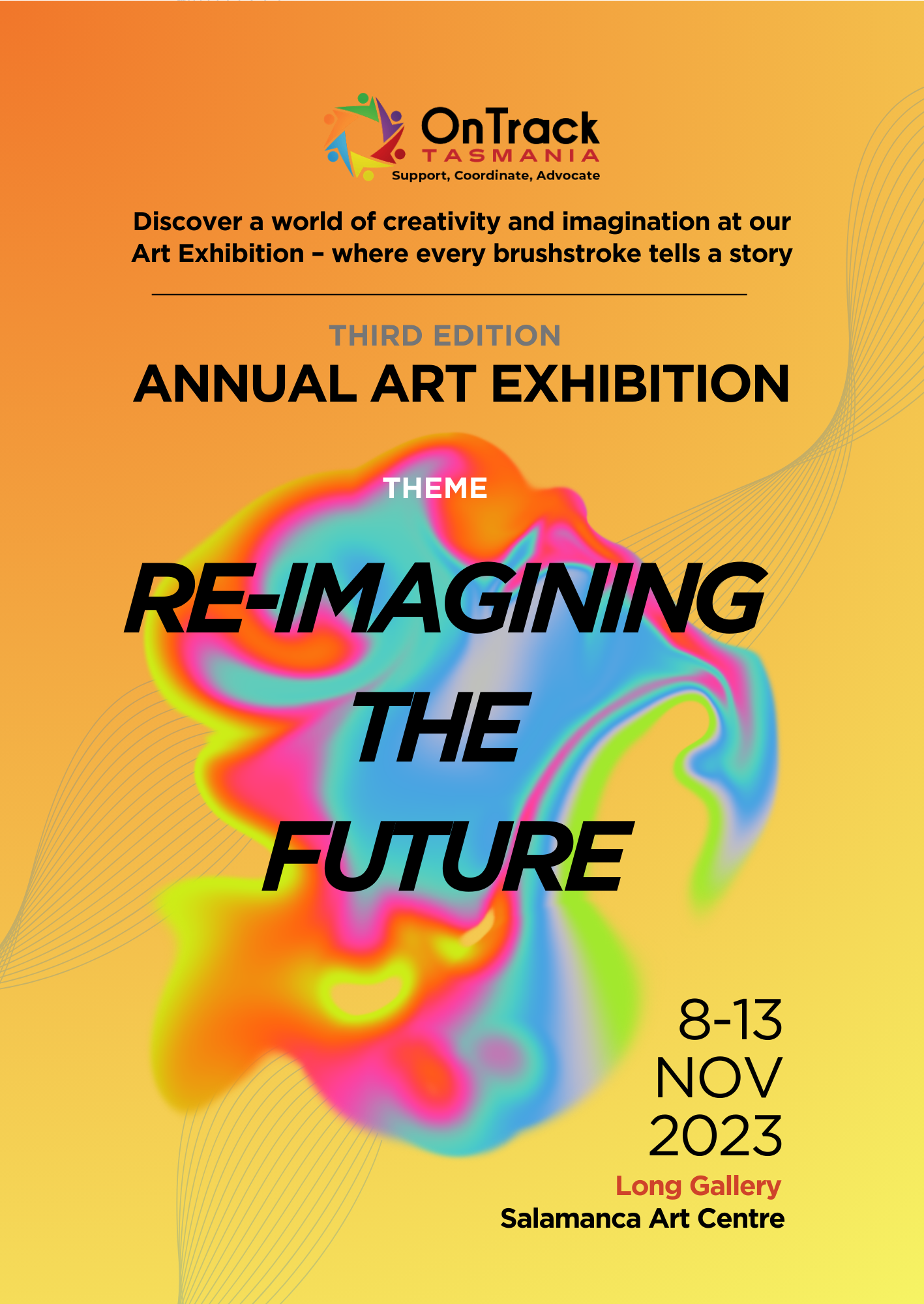 OnTrack Tasmania's Third Annual Art Exhibition
OnTrack Tasmania is excited to announce its Third Annual Art Exhibition, "Re-imagining the Future," showcasing the creative expressions of Participants living with disabilities.
This year's exhibition is a celebration of the incredible talent and dedication of OnTrack Tasmania's Participants living with disabilities. The theme, "Re-imagining the Future," is a thought-provoking and inspiring showcase of the artists' creative expressions, encouraging them to envision new possibilities for technology, society, and the environment. This exhibition is not just about art; it's a celebration of the human spirit and the world we live in, constantly changing and evolving. The theme reflects our aspirations and fears for the future and highlights the power we hold to shape it through our actions and choices.
OnTrack Tasmania is a registered National Disability Insurance Scheme (NDIS) provider that offers Supported Accommodation, Community Access, and Support Coordination services to people with disabilities. Through the Making Tracks Community Access program, OnTrack Tasmania provides a variety of fun and engaging programs and activities to NDIS Participants, including weekly arts and crafts sessions that allow Participants to be creative and bring out their inner artists using various artistic outlets such as clay, paints, and more. "The sessions encourage self-expression, boost self-confidence, and foster a sense of accomplishment as participants create unique and personal artwork," says Vipin, the Art Program Leader.
During the art classes, Vipin provides guidance, offers tips, and inspires Participants with different ideas or themes. "Seeing their unique ideas and expressions come to life on the canvas or through various art forms is truly inspiring," he says.
"It brings me joy to foster a supportive and inclusive environment where participants feel encouraged to freely express themselves and engage with one another. Watching their confidence grow, witnessing personal growth, and observing their passion for art ignite is incredibly fulfilling."
This year's exhibition will be bigger and more exciting, showcasing artists living with disabilities' unique visions for the future. Everyone is welcome to attend this free event to show support for the artists while celebrating their artistic achievements. Join OnTrack Tasmania in "Re-imagining the Future" at the Long Gallery, Salamanca Arts Centre, and experience the magic of creativity.
Next Occurrence
Date

Nov 24 - 29 2023

Time

On 13th November the event close at 1:00 PM

9:00 am - 4:00 pm