Regional Victoria exits COVID-19 lockdown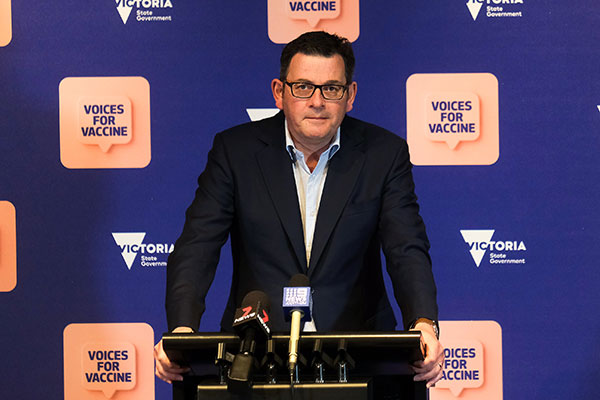 A Lockdown will be lifted in regional Victoria, with the exception of the town of Shepparton which is still battling a coronavirus outbreak.
The state has recorded 221 new locally acquired COVID-19 cases on Wednesday, but most are in Melbourne.
"Regional Victorians have done an amazing job, that is why these steps are possible," Premier Daniel Andrews told reporters on Wednesday.
From Friday morning the five reasons to leave home will be removed from regional Victoria, offices can reopen at 25 per cent capacity or 10 people, and businesses and venues can reopen.
Schools can also reopen for prep to year two and year 12 students.
In Melbourne, which will stay in lockdown, will see a jump in police enforcement of the metropolitan-regional border.
"If you don't have good lawful reason to go to regional Victoria, then please don't go to regional Victoria," Mr Andrews said.
It comes as police also investigate an illegal gathering in Melbourne's southeast.
So far six people have been fined $5452 each, or more than $32,000 collectively, after up to 30 people gathered to mark the Jewish holiday of Rosh Hashanah in breach of lockdown restrictions.
Victoria Police Assistant Commissioner Russell Barrett said there will be more fines issued "today or in coming days", as he urged those who attended the gathering to come forward.
"My advice is really clear to the people who were there last night - come forward, identify yourselves and allow us to process you through our systems and apply the law as it is today," he said.
Members of the Orthodox Jewish congregation entered a building, believed to be a prayer room, near a Ripponlea synagogue early on Tuesday morning and told police they wouldn't leave until nightfall.
Police surrounded the front and back entrances of the building and took details of those who began to file out just after 8pm.
Initial reports suggested up to 100 people had attended.
Mr Barrett said that number is still being investigated, but he's been advised it was "between 20 and 30" people.
Several worshippers became aggressive and an overnight news cameraman is being treated for a concussion at The Alfred after being assaulted.
Mr Barrett said the assault has been reported to police and will be investigated.
Police will remain in the area for the remainder of the Jewish new year, which ends after sundown on Wednesday.
The Jewish Community Council of Victoria said the actions of a few "do not represent the vast majority of our community" who are celebrating Rosh Hashanah at home with only the people they lived with.
"The JCCV expresses its strong disappointment in and condemns the actions of a small group of people who appear to have not followed COVID restrictions," a spokesman said.
He said local organisations "have gone to great lengths" to encourage the community to stay within the rules.
The health department on Wednesday confirmed 98 cases were linked to known outbreaks, with the source of the remaining 123 infections under investigation,
It brings the total number of active cases in the state to 1920.
© AAP 2021
Photo: Victorian Premier Daniel Andrews (AAP Image/Luis Ascui)
On the advice of the Chief Health Officer, Regional Victoria's lockdown will be lifted.

There remains a significant risk of cases seeding, so we all have to continue to work hard to keep regional Victoria, and all of us safe. pic.twitter.com/0vqNEhQfng

— Dan Andrews (@DanielAndrewsMP) September 8, 2021
Tags: coronavirus